I have one of those first generation all-in-one HP Touchsmart computers (the IQ824 CTO to be exact) wall mounted in my kitchen, and I've been super happy with it, and gotten more use out of it than I ever could have imagined. It came installed with Windows Vista, and I  upgraded it to Windows 7 when that came out and worked out a bunch of kinks. With the Windows 8 RTM, I decided to see if I could get some more mileage out of it and figure out if this Windows 8 touch experience could give it some new life.
The Installation
I started off with an upgrade installation. In the past I've never upgraded a Windows operating system – I've never trusted the cleanliness or stability of an upgrade path and always opted for a clean install. However, I've done upgrades to Windows 8 on several machines so far, and the process has been quick, painless, and foolproof. Microsoft has really nailed the install and upgrade experience for Windows 8 IMO.
I stuck in my Windows 8 Professional DVD, it asked me for my product key, and 15 minutes and a couple of automatic reboots later I was staring at the introductory screens for the new OS. After choosing my colors, the first question it asked me was my email address, and that was the first gotcha. Clicking into the textbox did not bring up the on-screen keyboard. You can either use a real keyboard for this, or you can press-and-hold the accessibility icon in the lower right corner to bring up the on screen keyboard.
The first thing you'll notice as you begin to use the operating system on this particular machine is that the touch experience sucks. It doesn't understand the typical touch gestures, scrolling, panning, zooming, and seems to treat your touch input and a single mouse click. But don't worry, this is a driver issue and I explain later how to solve this. I recommend a mouse and keyboard to get through the rest of the install screens.
Fixing touch
Once you finally get into the OS, and start playing around with it, you'll notice that touch isn't working quite right. If you go to the system settings (Win key + X > System), you'll see that your system says that you have a "Single Touch" input. That isn't correct, as the TouchSmart supports at least two touch points. This led me to believe that the drivers were not working quite right yet, so I went to the NextWindow site, and scrounged around for a Windows 8 touch driver. The page has a bunch of warnings on it, and doesn't explicitly say that TouchSmart is supported, so I was concerned with installing it. With the touch the way it was, it was a non-starter for me anyway, so I figured WTF, I'll install it, and if it doesn't work, I'll revert back to Windows 7 from a backup and be done with this experiment.
I installed the Windows 8 touch driver, and lo and behold touch was back to the experience it used to be. After a reboot, the System screen showed "Limited Touch Support with 2 Touch Points".
Getting used to Windows 8 Touch
Now that touch was working properly, I wanted to see how my old first-gen touch machine would work with the Windows 8-isms like the Start screen and the Charms menu.
To get to the Charms menu, I fumbled around with tapping and press-and-hold-right-clicking on the right edge of the screen, with no success. To get to the Charms menu on this machine, you have to put your finger on the right-most edge, and swipe to the left.
To get to the Start Menu button, I found that I could not tap the bottom-left corner like I could with the mouse. There is something wrong with the calibration of the cameras in the bezel and the driver software, and it just will not respond. To get the Start menu using touch only, I have to swipe to get the Charms menu, and tap Start from there. The lower-left corner just doesn't work.
When in the Metro UI, if you want to snap or dock metro apps, swipe from the very top of the app down and to the right (making a big "L" gesture). If you have multiple Metro-style apps open, you can scroll through them by swiping from the left edge over to the right. This is awesome, as the Metro apps always stay open, and so I can swipe from Calendar, to Weather, to Traffic in the morning and get access to everything I need to start the day.
Optimizing Touch
To make the Desktop Touch experience better, I increased the size of UI elements. You can do this from Control Panel (Windows Key + X > Control Panel) > Appearance and Personalization > Display > Make text and other Items larger or smaller. I chose Medium, this gave me nice big X buttons to close windows.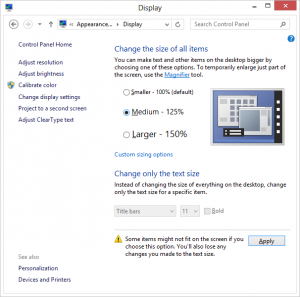 For the Metro Experience, I chose to display everything bigger. Get the Charms Menu > Settings > Change PC Settings > Ease of Access > Make everything bigger. This gave me just the right size icons and menus for this larger screen.
I have to say that after using the Metro UI on this large touch screen, the experience is really excellent. Scrolling, swiping, browsing and installing apps, the whole touch enabled Start menu – everything is very fluid and polished. If anyone tried out HP's failed attempts at this with their TouchCenter WPF experience on the TouchSmart computers, you can see that the potential of that paradigm has finally come to full fruition with the full backing of Microsoft behind it. HP was sadly all alone on that concept, and a bit ahead of their times.
Getting Windows Media Center Back
Since the TouchSmart has a TV tuner, and we used MediaCenter all the time for watching OTA local digital TV stations (PBS Kids while the kids are eating their breakfast at the kitchen counter), we had to have access to Windows Media Center.
Luckily this is free, and easily acquired via a product key from Microsoft. Note – you have to wait at least 24 hours to get your key via email. To add WMC back, open the Charms menu, tap Search, and search for Add Features to Windows. Run through the wizard and enter your product key. After a loooong time, the system will reboot, and you'll have the same old Windows Media Center available with access to your TV tuner. You'll have to setup TV and your media libraries again though. And note – this is the same old WMC. There is nothing yet improved with this version.
Logging on Without a Password
Since this is a shared kiosk, always on, we never use a password. The old trick of Windows Key + R (Run menu) and typing netplwiz still works.
Remote Control
The TouchSmart comes with an infrared Media Center eHome remote control. Initially after upgrade, the remote did not function at all. Turns out this is an easy fix. There is a windows service called Human Interface Device Access that was set to disabled. To enable this, perform the following:
Windows Key + X > Computer Management
Expand Services and Applications > Services
Right-click Human Interface Device Access service and choose Properties
Set the status to Automatic, click Apply, click Start, click OK.
Side Notes
I uninstalled all the HP TouchSmart crap software, as it isn't compatible with Windows 8, and you don't need it anyway. The only thing I left was the Ambient Light application, this still works fine, and lets you change the color of the light at the bottom of the unit.
The only thing I can't get working is the Home button on the bottom right corner of the unit. I'd love to have this launch the Start screen. Maybe some day I'll have free time to see if I can't interface with the driver for it and control what it does.
[update]Also, the side volume buttons on the unit do not seem to work.[/update]