I am just finishing up the touches on my first Windows Live Writer plugin, which I'm calling xPollinate. I've wanted to cross post to multiple blogs as well as Ping.FM from Windows Live Writer, and originally I found this plugin by Daniel Cazzulino that was not perfect, but got the job done.
I used this plugin as a basis and then added a bunch of bells and whistles that I wanted. Following are some feature enhancements that I've added:
Cross post to multiple blogs at the same time
Choose blogs to post to at cross post time
Set plugin defaults through the options dialog, and override at posting time.
Ability to turn comments and trackbacks (pings) on/off at the cross posted blog
Add header or footer html to each cross posted entry
Cross post to Ping.FM

Supports triggers and services
Post using blog, microblog, or status methods, simultaneously or individually
Here are some screen shots:
The Blogs Tab: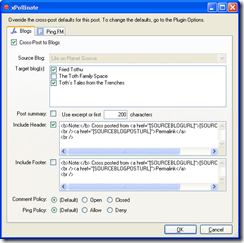 This enables you to select multiple blogs to cross post to. You can optionally post a summary, and include header and footer text.
The Ping.FM tab:
This enables you to post your blog entry via Ping.FM to your configured services. You can post a full or summarized version to your Ping.FM blogs, and can post a notification to your Ping.FM status and microblog services. The format of the notification is customizable.
Left to Do
I'll be releasing this as a free plugin to the community, and will release the source as well. The final few things I have left to do are:
Clean up the installer
Get a public API key from Ping.FM
Submit to the Live Writer plugin gallery