xPollinate is a Windows Live Writer plugin that enables you to cross post your blog entries to other blogs, as well as other social networking sites via Ping.FM. Use it to increase your exposure, reach more audiences, or even to create backups of your blog posts.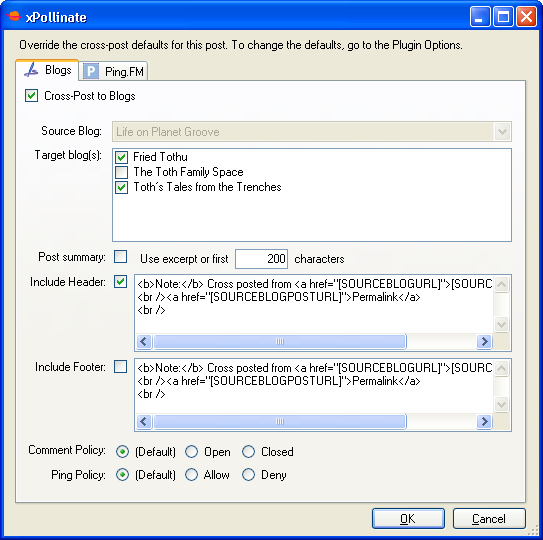 You can download the plugin from the associated CodePlex site, or from the Windows Live Writer Plugin Gallery here.

This plugin is based on another CodePlex plugin project (http://www.codeplex.com/clarius/Release/ProjectReleases.aspx?ReleaseId=6626) by Daniel Cazzulino, but with additional features and functionality.
Version 1.0.0.4 includes the following features:
Cross post to multiple blogs at the same time
Choose blogs to post to at cross post time
Set plugin defaults through the options dialog, and override at posting time.
Ability to turn comments and trackbacks (pings) on/off at the cross posted blog
Add header or footer html to each cross posted entry
Cross post to Ping.FM

Supports triggers and services
Post using blog, microblog, or status methods, simultaneously or individually